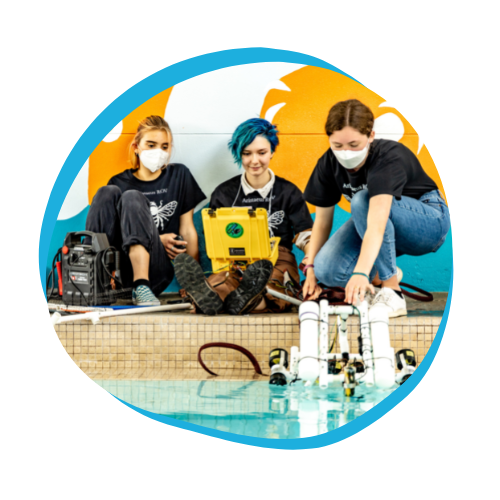 Regional network that represents organizational partnerships.
The MATE Competition Network began in 2001 and currently consists of 46 regional events that take place across the U.S. and around the world. Regional competitions serve as feeders into the annual MATE World Championship.
The Regional Competition Network represents partnerships with organizations such as professional societies, research institutions, state and government agencies, community colleges and universities, public aquaria and science museums, and non-profits.
Below is an alphabetical list of the regional competitions. Clicking on the region name will direct you to that regional's webpage. If you are unsure which region you should participate in, please contact us!
Interested in starting a MATE regional competition?

Regional
Host Location
Host Organization
Date
Competition Classes

Kingsport, Tennessee

Kingsport Aquatic Center

June 18-22, 2024

EXPLORER/RANGER/PIONEER

Dauphin Island, Alabama

Dauphin Island Sea Lab

TBD

SCOUT/NAVIGATOR/RANGER

Pago Pago, American Samoa

American Samoa Department of Education

TBD

SCOUT/NAVIGATOR/RANGER

Tucson, Arizona

University of Arizona Campus Recreation Center

TBD

SCOUT

Surabaya-Jawa Timur, Indonesia

Sekolah Robot Indonesia

TBD

SCOUT/RANGER/EXPLORER

St. George's, Bermuda

Bermuda Institute of Biological Sciences

TBD

SCOUT/NAVIGATOR/RANGER

Watsonville, California

MATE/MTS

TBD

SCOUT/NAVIGATOR/RANGER

Vallejo, California

California Maritime Academy

TBD

SCOUT/NAVIGATOR/RANGER

Long Beach, California

Long Beach City College

TBD

SCOUT/NAVIGATOR/RANGER

St. John's, Newfoundland & Labrador

The Fisheries and Marine Institute of the Memorial University of Newfoundland

TBD

SCOUT/RANGER

Shanghai, China

International League of Underwater Robot (ILUR)

TBD

SCOUT/NAVIGATOR/RANGER/EXPLORER

Shanghai, China

Seed International Ltd - dba ASDAN China

TBD

SCOUT/NAVIGATOR

Shanghai & Beijing, China

IPERC

TBD

SCOUT/NAVIGATOR/RANGER

Wuxi City, China

Smartsea

TBD

SCOUT/NAIGATOR

Morehead City, North Carolina

Merrow Foundation

TBD

SCOUT/NAVIGATOR/RANGER

Longmont, Colorado

Innovation Center of SVVSD, St. Vrain Valley School District

TBD

SCOUT/NAVIGATOR/RANGER

Alexandria, Egypt

Delta Square International LLC

TBD

RANGER/EXPLORER

Boca Raton, Florida

North Broward Preparatory School

TBD

SCOUT/RANGER

Albany, GA

STREAMWORKS

TBD

SCOUT/NAVIGATOR

Savannah, Georgia

Gray's Reef National Marine Sanctuary Foundation

TBD

SCOUT/NAVIGATOR/RANGER

Alpena, Michigan

Thunder Bay National Marine Sanctuary

TBD

SCOUT/NAVIGATOR/RANGER

Barrigada, Guam

U.S. Dept. of Education

TBD

SCOUT/NAVIGATOR/RANGER

Hilo, Hawaii

Hawaii Preparatory Academy

TBD

SCOUT/NAVIGATOR/RANGER

Oahu, Hawaii

TBD

SCOUT/NAVIGATOR/RANGER

Hong Kong

Institute of Engineering and Technology Hong Kong

TBD

RANGER/EXPLORER

Mumbai, India

SMARVOM NMIMS University

TBD

RANGER/EXPLORER

Indiana

TBD

SCOUT/NAVIGATOR

Surabaya-Jawa Timur, Indonesia

Sekolah Robot Indonesia

TBD

SCOUT/NAVIGATOR/RANGER

Taipa, Macau

Macau Anglican College

TBD

NAVIGATOR

Norfolk, Virginia

Old Dominion University VMASC

TBD

SCOUT/NAVIGATOR/RANGER

Hoffman Estates, Illinois

Hoffman Estates High School

TBD

SCOUT/NAVIGATOR/RANGER

Buzzards Bay, Massachusetts

Massachusetts Maritime Academy

TBD

SCOUT/NAVIGATOR/RANGER

Ohio

PAST Foundation

TBD

SCOUT/NAVIGATOR/RANGER

Newport, Oregon

Oregon State University

TBD

SCOUT/NAVIGATOR/RANGER

Villanova, Pennsylvania

Villanova University

TBD

SCOUT/NAVIGATOR/RANGER

Vladivostok, Russia

Maritime State University

TBD

SCOUT/NAVIGATOR/RANGER

Thuwal, Saudi Arabia

King Abdullah University of Science & Technology (KAUST)

TBD

SCOUT/RANGER

Gyeongsangnam-do, South Korea

Trident Ocean

TBD

SCOUT/NAVIGATOR/RANGER

Johnson City, Tennessee

STREAMWORKS

TBD

SCOUT/RANGER

Chattanooga, Tennessee

Tennessee Valley Robotics

TBD

SCOUT/NAVIGATOR

Memphis, Tennessee

Crosstown High School

TBD

SCOUT

Texas

Oceaneering, Inc.

TBD

SCOUT/RANGER

Nabeul, Tunisia

scholar group les écoles idéales

TBD

RANGER

Istanbul, Turkey

Uskudar University

TBD

SCOUT/NAVIGATOR/RANGER

Abu Dhabi, UAE

TBD

SCOUT/NAVIGATOR/RANGER

Aberdeen, Scotland

Robert Gordon University School of Engineering

TBD

NAVIGATOR/RANGER

Washington - Olympic Coast
Register Here »

Forks, Washington

National Marine Sanctuary Foundation for Olympic Coast NMS

TBD

SCOUT/NAVIGATOR

Seattle, Washington

MTS-Puget Sound

TBD

SCOUT/NAVIGATOR/RANGER

Milwaukee, Wisconsin

University of Wisconsin

TBD

SCOUT/RANGER