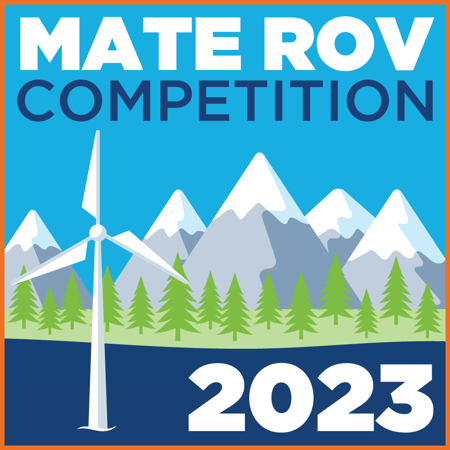 MATE goes to the mountains!
The St. Vrain Valley School District in Longmont, CO to host the 2023 MATE ROV World Championship!
We are thrilled that our MATE Rocky Mountain Regional partners at the St. Vrain Valley School District and the Innovation Center of St. Vrain Valley Schools will be hosting the 2023 World Championship! From the Innovation Center to the Silver Creek High School Leadership Academy and the Astronaut Vance Brand Auditorium at Skyline High School, the St. Vrain Valley School District embraces "academic excellence by design." It also embodies what public education can and should be and we couldn't be more pleased to showcase this to our global community next June!
Save the Date: June 22-24 for the 2023 World Championship, with June 20-21 reserved for team check-in and safety checks.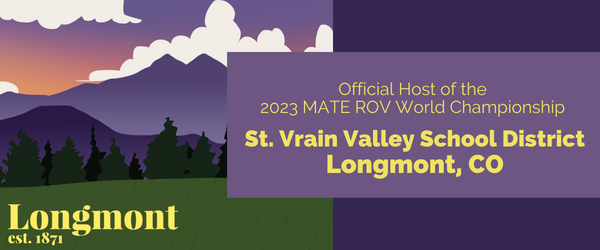 Let's talk logistics.
Congrats - You've made it to the MATE World Championships in Longmont, CO! To book your teams hotel room under the MATE ROV Competition rate, visit the team lodging page.
World Championship Resources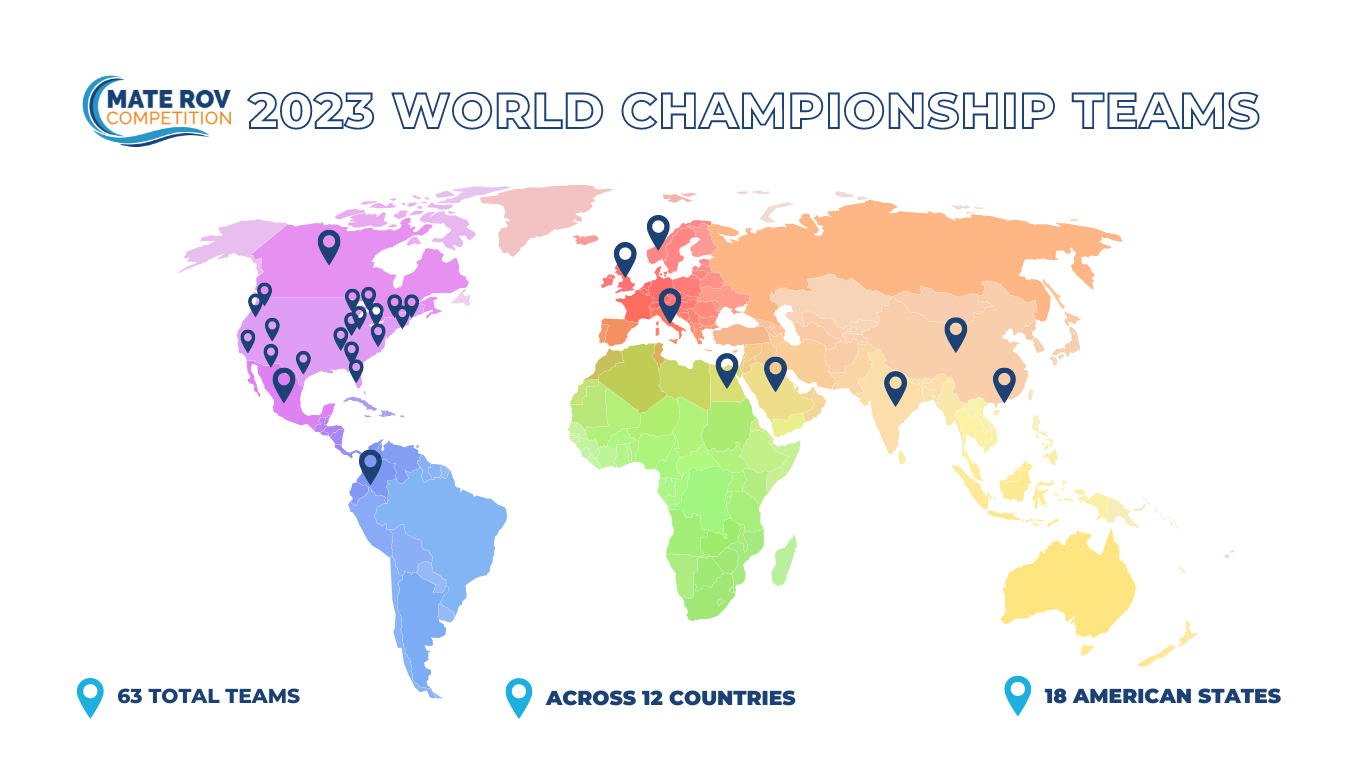 World Championship Team Qualifiers
Congratulations to the following teams for advancing to the 2023 MATE World Championship!
Team #
Team Name
Class
School/Organization Name
Location
Regional

EX17

Aquaphoton Academy

EXPLORER

Aquaphoton Academy

Alexandria, Egypt

EX19

Bruin Underwater Robotics

EXPLORER

University Of California

Los Angelos, California

EX07

CityU Underwater Robotics

EXPLORER

City University of Hong Kong

Kwun Tong, Hong Kong SAR

EX24

Colorado Robosub

EXPLORER

CU Boulder

Boulder, Colorado

EX01

Colorado School of Mines

EXPLORER

Colorado School of Mines

Golden, Colorado

EX20

Columbia University

EXPLORER

Columbia University

New York, New York

EX11

CWRUbotix

EXPLORER

Case Western Reserve University

Cleveland, Ohio

EX09

Eastern Edge Robotics

EXPLORER

Memorial University/Marine Institute

St. John's, Newfoundland and Labrador, Canada

EX14

EPOXSEA

EXPLORER

The Hong Kong University of Science and Technology

Hong Kong SAR

EX08

ETSU Buccaneers

EXPLORER

East Tennessee State University

Johnson City, Tennessee

EX25

Fish Logic

EXPLORER

Macau Anglican College

Taipa, Macau

EX06

Jesuit Robotics

EXPLORER

Jesuit High School

Carmichael, California

EX16

Kelpie Robotics

EXPLORER

University of Ottawa

Ottawa, Ontario, Canada

EX10

Linn-Benton Community College ROV

EXPLORER

Linn-Benton Community College

Albany, Oregon

EX05

Nugget Industries

EXPLORER

Wentworth IEEE student branch

Boston, Massachusetts

EX02

NUWave

EXPLORER

Northeastern University

Boston, Massachusetts

EX04

PoliTOcean

EXPLORER

Politecnico di Torino

Torino, Italy

EX03

Purdue ROV

EXPLORER

Purdue University

West Lafayette, Indiana

EX21

SeaFox Inventive

EXPLORER

CETYS Universidad

Mexicali, Baja California, Mexico

EX22

Stingray

EXPLORER

Afiz Makerspace

Alexandria, Egypt

EX18

Team Nira

EXPLORER

AUV Society, IIITDM Kancheepuram

Chennai, Tamil Nadu, India

EX13

TecXotic

EXPLORER

Tecnológico de Monterrey

Xochitepec, Morelos, Mexico

EX15

UiS Subsea

EXPLORER

UiS Subsea

Stavanger, Rogaland, Norway

EX12

UWROV

EXPLORER

University of Washington

Seattle, Washington

PN01

Ambitious Axolotls

PIONEER

Estrella Mountain Community College

Avondale, Arizona

PN03

Cabrillo Robotics Club

PIONEER

Cabrillo College

Aptos, California

PN05

Deep Sea Dogs

PIONEER

Allen Hancock College

Santa Maria, California

PN06

Lancer Lumineers

PIONEER

Pasadena Community College

Pasadena, California

PN04

ROBOCOL

PIONEER

Universidad de los Andes

Bogota, Columbia

PN02

Southwest Virginia Community College Robotics

PIONEER

Southwest Virginia Community College

Cedar Bluff, Virginia

RN14

Achelous

RANGER

Pui Ching Middle School

Macau

RN01

AquaBot Technicians

RANGER

Moody High School

Corpus Christi, Texas

RN28

ARES Marine Robotics

RANGER

Unaffiliated

West Richland, Washington

RN11

Brother Rice High School

RANGER

Brother Rice High School

Chicago, Illinois

RN29

Coral Crusders

RANGER

Unaffiliated

Redmond, Washington

RN16

Crubotics_RANGER

RANGER

Pensacola Catholic High School

Pensacola, Florida

RN07

Cyance ROV Team

RANGER

Atlantis STEAM

Clinton, Washington

RN10

Deep Sea Tactics

RANGER

Landstown High School

Virginia Beach, Virginia

RN22

Eagle Rays

RANGER

American International School of Riyadh

Riyadh, Al Aarid

RN24

Eternal

RANGER

Vortex Robotics

Alexandria, Egypt

RN15

Geneseas

RANGER

St. Francis Catholic High School

California - Monterey Bay

RN32

H2Operations

RANGER

Francis W. Parker School

Chicago, Illinois

RN03

Hackley Aquatic Engineers

RANGER

Hackley School

Tarrytown, New York

RN19

Hephaestus Robotics

RANGER

X Academy

California - Monterey Bay

RN27

Husky Explorer

RANGER

Mount Pearl Senior High School

Mt. Pearl, Newfoundland & Labrador

RN21

Kingsport Technologies

RANGER

Dobyns-Bennett High School

Kingsport, Tennessee

RN02

Lee Stingrays

RANGER

Lee High School

Jonesville, Virginia

RN04

Magikarp Industries

RANGER

Innovation Center of SVVD

Longmont, Colorado

RN06

MTL Horizon

RANGER

Mount Laurel Library

Mt. Laurel, New Jersey

RN05

Night Owls

RANGER

Florida Atlantic University High School

Boca Raton, Florida

RN17

Oostburg ROV

RANGER

Oostburg High School

Oostburg, Wisconsin

RN25

Over Defined

RANGER

Fukien Secondary School

Hong Kong SAR

RN34

Overflow Robotics

RANGER

Overflow Robotics Co

Alexandria, Egypt

RN31

Phoenix Robotics

RANGER

Brooks DeBartolo Collegiate High School

Tampa, Florida

RN18

PVIT

RANGER

Palos Verdes High School

Palos Verdes Estates, California

RN13

Robosharks

RANGER

Boulder High School

Boulder, Colorado

RN30

Sea Cow Robotics

RANGER

Lanier High School

Sugar Hill, Georgia

RN08

Shark Tech

RANGER

Labrador Straits Academy

L'Anse Au Loup, Newfoundland & Labrador

RN09

Team SUNK

RANGER

Medford Voc Tech High School

Medford, Massachusetts
In-Person

RN26

TKS Reef Rovers

RANGER

King Abdullah University of Science and Technology (KAUST)

Thuwal, Makkah

RN23

Underwater Research Robotics (UR2)

RANGER

Alpena High School

Alpena, Michigan

RN20

WhaleTech - North Paulding Robotics

RANGER

North Paulding High School

Dallas, Georgia

RN12

XTRa Tropical Robotics

RANGER

Grove Academy

Dundee, Scotland, UK

Advanced but not participating

Banyubramanta ITS

EXPLORER

Sepuluh Nopember Institute of Technology

Surabaya, Jawa Timur

Advanced but not participating

DuXing Poseidon

EXPLORER

Xi'an Jiaotong University

Xi'an City, Shaanxi

Advanced but not participating

G_Robot

EXPLORER

Beijing University of Science and Technology Information

Beijing, Beijing

Advanced but not participating

S-ROV

RANGER

SMA Negeri 2 Surabaya

Surabaya, Jawa Timur