MATE Pennsylvania
Regional ROV Competition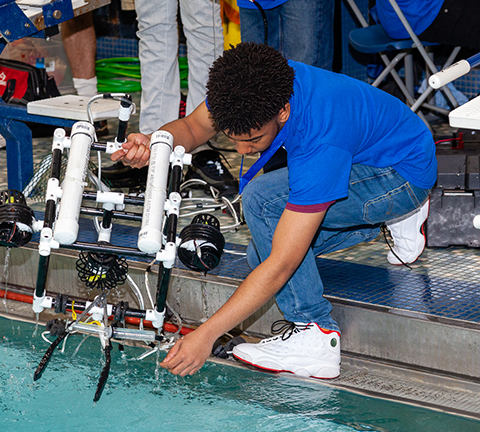 2023 regional competition
registration is now open
May 13, 2023
Host: Villanova University
Location: Villanova, Pennsylvania
In-Person Competition
classes: SCOUT/RANGER
The MATE Pennsylvania Regional ROV Competition and all of our teams would like to thank our sponsors
REGIONAL COORDINATOR
Vanessa Morris


jzande@marinetech.org
Velda Vanessa Morris, is the Pennsylvania Regional Coordinator for MATE. She serves as a results-oriented administrator who excels in science, technology, engineering, arts and mathematics (STEAM) initiatives, and brings research experience in the STEAM and workforce areas. Ms. Morris has strategically and intentionally increased the participation of all students, especially underrepresented young adults and girls in emerging technologies, and connects them to university and industry professionals.
For the past two decades she's emboldened student's curiosity in robotics and engineering platforms. Educators and students are empowered to be a voice or change agent to promote diversity and collaboration while making highly qualified environmental decisions based upon scientific and technical research.
Ms. Morris has conducted STEAM presentations nationally and published three books. She became one of the first African American elected officers to the Society of Manufacturing Engineers, Phila., Chapter 15, (since its inception in 1936). Throughout the years, Ms. Morris has written and received workforce and robotics land and sea grants while partnering with several colleges of engineering. In 2009, she partnered with the Mechanical Engineering department at Villanova University and Video Ray, LLC. (the global leader in ROV technology), thus launching the first MATE Pennsylvania ROV Competition, in the state and region.