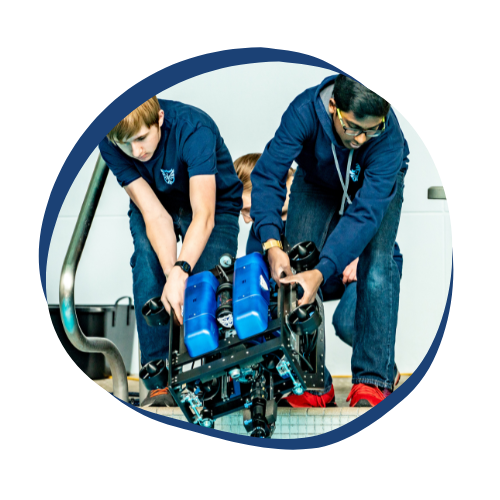 2023 registration fees are outlined by class type below.

Registration fee payments are credit card ONLY.

Registration fees cannot be refunded or transferred to future years or other teams.

Some regionals will offer discounts on registration fees; others may have sponsors or scholarships to help cover them.

Click

here

to review the MATE ROV Competition Health and Safety Guidance for In-Person Events document.

Scroll down to find a competition to register your team for!
Regional
Date
Venue
Class

June 20-25, 2023

St. Vrain Valley School District, Longmont, CO

now - April 26, 2023

April 28, 2023

Dauphin Island, Alabama
In-person

SCOUT/NAVIGATOR/RANGER

May 6, 2023

Tucson, Arizona
In-Person

SCOUT

May 6, 2023

Surabaya-Jawa Timur, Indonesia
In-person

SCOUT/RANGER/EXPLORER

April 22, 2023

Watsonville, California
In-Person

SCOUT/NAVIGATOR/RANGER

May 13, 2023

Long Beach City College
Long Beach, California
In-Person

SCOUT/NAVIGATOR/RANGER

May 4, 2023

Canada - Newfoundland & Labrador St. John's, Newfoundland & Labrador
In-Person

SCOUT/RANGER

May 13, 2023

Longmont, Colorado
In-Person

SCOUT/NAVIGATPOR/RANGER

April 28, 2023

SanYa, Hainan Province, China
In-person

EXPLORER

May 11, 2023

Alexandria, Egypt
In-Person

RANGER/EXPLORER

April 29, 2023

Coconut Creek, Florida
In-person

SCOUT/RANGER

May 6, 2023

Savannah, Georgia
In-person

SCOUT/NAVIGATOR/RANGER

May 20, 2023

Alpena, Michigan
In-person

SCOUT/NAVIGATOR/RANGER

April 29, 2023

Hong Kong
In-person

RANGER/EXPLORER

May 13, 2023

Norfolk, Virginia
In-Person

SCOUT/NAVIGATOR/RANGER

May 13, 2023

Hoffman Estates High School
Hoffman Estates, Illinois
In-person

SCOUT/RANGER

April 22, 2023

Buzzards Bay, Massachusetts
In-Person

SCOUT/NAVIGATOR/RANGER

April 22, 2023

Newport, Oregon
Hybrid (In-Person, Virtual)

SCOUT/NAVIGATOR/RANGER

May 13, 2023

Villanova, Pennsylvania
In-person

SCOUT/RANGER

May 13, 2023

Thuwal, Saudi Arabia
In-Person

SCOUT/RANGER

May 8, 2023

Johnson City, Tennessee
Hybrid (In-Person, Virtual)

SCOUT/RANGER

April 29, 2023

Chattanooga, Tennessee
In-Person

SCOUT/NAVIGATOR

April 22, 2023

Memphis, Tennessee
In-person

SCOUT

May 06, 2023

Oceaneering, Inc., Texas
In-person

SCOUT/RANGER

April 08, 2023

Nabeul, Tunisia
In-person

RANGER

April 20, 2023

Aberdeen, Scotland
In-Person

NAVIGATOR/RANGER

Washington - Olympic Coast
Register Here »

May 20, 2023

Forks, Washington
In-person

SCOUT/NAVIGATOR

May 13, 2023

Seattle, Washington
In-Person

SCOUT/NAVIGATOR/RANGER

April 30, 2023

Milwaukee, Wisconsin
In-person

SCOUT/RANGER