MATE American Samoa Regional ROV Competition
The MATE American Samoa Regional ROV Competition and all of our teams would like to thank our sponsors
Isabel Gaoteote


email isabel.gaoteote@noaa.gov
Isabel (Gaoteote) Halatuituia is the Education Coordinator/IT Specialist for National Oceanic and Atmospheric Administration's (NOAA) National Marine Sanctuary of American Samoa (NMSAS), contracted by Cardinal Point Captains Inc. She worked for the American Samoa Department of Education's Special Education division, as a teacher for the Deaf and Hard of Hearing Program and Individualized Education Program for 9 years before working for Sanctuaries. She has always been very passionate about teaching and continues to be involved in various professional development and educational opportunities.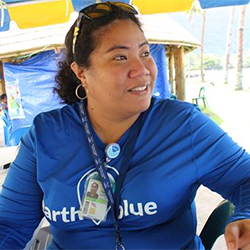 Dr. Joserose S. Jyothibhavan


email joserose@gmail.com
Dr. Joserose S. Jyothibhavan is the science/health coordinator for the American Samoa Department of Education. He has been teaching at different public high schools in American Samoa for 16 years. He received his Ph.D. in Entomology from Bhopal University, India. He did his Postdoctoral studies in Banaras Hindu University, one of Asia's biggest residential Universities with a National Fellowship to study on Insecticide Resistance Management in Agricultural Pests. He also worked as an Assistant professor in University of Kerala, India.
He was the Territorial Teacher of the year 2007. He loves mentoring students and teaching science. He is also an adjunct faculty member at the American Samoa Community College.